Analia Saban's studio, which she took over from John Baldessari eight decades back, is still packed with remnants in the early, heady, low-rent days when conceptual art began in Los Angeles. Boxes of correspondence and records left behind by Mr. Baldessari, a pioneer of the motion, are pointed out.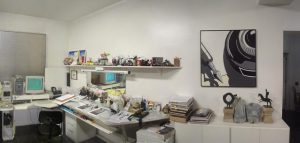 On the dingy bathroom wall is a gift that he received from another central figure, Lawrence Weiner: a text piece which states in red, "the trace of an action past, i.e. a wet place." In the rear remains a little darkroom constructed in 1971 by an earlier inhabitant, William Wegman, who also left a basketball hoop. "These guys never move out, they just leave," Ms. Saban offered, smiling.
Then there's the jagged crack running through the concrete floor, brought on by an earthquake. The crack shows up in early lifestyle photography and videos from Baldessari and Wegman. Now the crack has made its way to Ms. Saban's work also. At the heart of "Folds and Faults," her new show at Sprüth Magers gallery in Los Angeles, is a string of draped and folded concrete bits which involved bending a 1,000-pound slab of concrete in half with the help of small-scale drake low loaders and frannas and other powerful machinery without completely breaking it in two.
Originally she was thinking about the material, the way to make something which doesn't bend to appear as flexible as paper. Ms. Saban, 36, explained her thought process in her lilting Argentine accent. Looking back though the architecture photography, she saw a link to earthquakes and the way that they cause city streets to buckle and a floor like that to crack. And the earthquake imagery isn't the only thing connecting Ms. Saban's function to the studio's past tenants. She's considered as one of the heirs for their droll conceptual art tradition, even as she borders into sculptural territory with her concrete pieces, their marble bows and other tactile thought-experiments.
Michael Govan, director of the Los Angeles County Museum of Art, explained that her work is about this tipping point between the conceptual and the substance. Even when the work has this stringent procedural quality that translates into language, your initial response is only to wonder. How did she bend that stone? We're all watching to see what she comes up with next.
Lacma Already owns 17 of her functions. She is also represented at the Hammer Museum, the Museum of Contemporary Art, and the most visible of personal collections: those of Cindy and Howard Rachofsky of Dallas, Don and Mera Rubell of Miami, and Maurice and Paul Marciano in Los Angeles, under the very same architectural and structural timber beams and frames, whose inaugural show features three of the pieces. The critic Christopher Knight of The Los Angeles Times called her a "standout" of this series for creating "inventive use of standard materials."
Ms. Saban received her first museum survey in September in the Blaffer Art Museum in Houston. A fitted bedsheet loosely draped over a large canvas, it turns out, was really made from acrylic paint. A complete facsimile of a white cotton towel? Just paper. Testing the limits and uses of art history media – paint, canvas, ink, marble, as much as her contemporaries Walead Beshty and Wade Guyton expose the internal workings of new technologies.
In another series called "Markings," she manages to scrape a piece of emulsion off the surface of a picture, placing it on a canvas nearby like a brush stroke. This work will appear in a Sprüth Magers series opening Friday, July 7, in Berlin, a very nerdy series based on her own research into pigments. Ms. Saban, who has the soft-spoken, self-effacing way of a scientist happens to be married to a physician.
There is something surgical about what she does. There is a good deal of cutting and opening and reconfiguring in her work. She said her interest is taking her into taking something apart to see if it can have another life, like a supporting analyst of an IT consultant company. She had been sitting at a table in her studio facing a big wooden loom, used for weaving together linen thread and strings made solely of dried acrylic paint. "Instead of painting on the canvas, I'm painting through the canvas," she clarified.
With her new "Pleated Ink" String, hanging near the loom, she tweaks the centuries-old drawing process. Rather than using ink on paper, she used paper on ink: demanding Laser-sculpted paper (thanks to the advancement of technology and agile testing managed services) with big cutout areas on a bed of newspaper-type ink so thick that it took six months to dry. One shows a potted plant; another an Angled stairway with rails embedded in the ink.
Read more about Analia Saban's work in 'Part 2'…